Digital Woe
!#$%@!
My gosh, what an experience it's been these past several weeks. Have you wondered if I fell off a cliff? Well, my computer kind of did, but only after a whole lot of other stuff happened first.
The sequence of events goes something like this, and I have to go back a bit to set the stage. Yes I am winding up for a long story:
In 2018 I had become obligated to take over the financial and practical management of life for my elderly mother, who was losing her memory, and her even more elderly husband, a man from Portugal who barely spoke English. (He had been depending on my mother.)
This situation gradually deteriorated over the next four years, and my own life was consumed with the management of their very difficult, often intractable problems. There was no money, and it was one of the most difficult times of my life. I was almost unable to create artwork at all, or to have even a day to myself. I neglected everything at my own home, and my mother slipped into full-on dementia. I was able to keep them in their rental into 2022, but they were looking at having to go into separate nursing homes soon because of that dementia, and because of the money issues.
As things got desperate, I kept searching for solutions and began speaking with the family in Portugal, using Google to translate the language in email. And, to my everlasting gratitude last year they agreed to bring them to a family home there - a gift from God that gave me my life back.
I moved heaven and earth to transition their lives to the lovely home where the extended family would take care of them. They moved in late 2022. My mother's husband was especially happy to be with his family again. I know in my heart that this was the right move to make because it was only three months later that he passed away, at age 91, inside the very house he was born in, with his family by his side. My mother happily continues there.
All of this is to illustrate the backdrop. In the process of their move, naturally many possessions were no longer needed and were left behind. One of them was a fairly new computer that would replace my own 11-year-old Mac, which had been throwing errors for over a year, no longer fully compatible with Photoshop, which is critical software for me.
This was another gift from God. This much-newer computer has an incredibly-sharp, crystal clear retina display, startlingly different from the computer I had been using since 2012. I am so grateful for it.
Now a side note: I used to be a computer tech. For years I built computers, fixed them, removed viruses, and later became a systems admin and then a network engineer. A whole other life, and thank God I had that background when you read the next part.
So as expected I had already had to reinstall programs, move files, and upgrade every single thing. From email accounts, to my website-making software (Rapidweaver), as well as the million+1 settings, art brushes, etc that go into a Photoshop workspace, it all needed to be tweaked and updated. Software changes a lot in eleven years, and it was very apparent.
I took my time and re-created everything to my liking, and was just deciding to get back to this Journal when I realized something: the screen on my gigantic 27QHD Wacom Cintiq drawing table I had been using (for 7 years) also could not keep up. Everything on it looked fuzzy, the thing was now crashing sometimes, the screen kept turning green. It was just not compatible with the newer hardware.
Then… I noticed my website also looked different to me. Something was off, it was strange. All of the gallery artwork was…. dark. It never looked like that on the old computer. I was puzzled.
But wait there's more: I decided to print some proofs of that artwork and send it to myself. I was aghast at what it looked like. I was horrified to find that while I had been making my artwork and scanning work into Photoshop, or seeing it on the screen, it was no longer accurate or true-to-life. Everything I was printing or posting online was coming out wrong - colors were off, and most were just way, way too dark. The newer computer made this obvious. I had been sending customers drop-ship art prints and cards using these dark artwork files without realizing it.
I was going to have to order new proofs for every single thing I sell, including the cards from the local printer. (A proof is just a print so I can see how it comes out.) So this is what I did, and discovered that every single one of them needed to be adjusted and changed so that they will print correctly. Some of them have had to be done twice, and some I am in the middle of the third round. This has been a very lengthy process, both in Photoshop and also waiting for the printer to send them back. I don't get a lot of orders these days, but the poor people who did purchase had to wait a long time.
But wait, there's more.
I was going to need to get a new drawing table too, and those puppies are expensive. (I already jumped the gun and got the less expensive one first, which also turned out to be incompatible with the new computer - I have since returned it and will be ordering the higher-priced one with a 4K display, as soon as I can afford it.)
But wait, there's more.
I was also going to have to re-do my website. If you look at it today, you will see that in the last few weeks I have completely redesigned and updated it. My Rapidweaver software was also completely upgraded, and now I was creating corrected images to upload to the SarahHudock.com galleries and Shop. I don't know if you've ever created a website, but it seems to take forever, and you end up finding something new to fix every day. There are so many aspects to think about, viewers looking at them on a phone vs a desktop, etc. Anyway, at least now I have it in a state that I can live with for the time being. Go check it out and tell me what you think.
But wait, there's more.
Just as I was thinking to myself, "Whew, things are winding down now", and while I was in the middle of redoing my website, the Rapidweaver program froze and threw up an error saying that it couldn't save the file I was working on. At first I thought it was a problem with Rapidweaver itself. But nope. After a day or so of investigation the problem turned out to be that one of my backup USB drives had failed.
Now, because so far my attention had been elsewhere (for years really) I had simply continued to use the same USB external drives that I have been using for about the past six years. That's a really long time for a USB drive to last. I remember looking at them, probably with a funny look on my face, wondering wtf, now what's wrong?
Note: when an artist creates artwork files in Photoshop, the resulting file sizes tend to be huge. Typically for me they range somewhere between 50MB and 500MB, but just as often they are over 1GB too. Some even more than 2GB. (Large file size is good for printing on products, btw.) And I have hundreds of them.
I have always kept all of my artwork on external drives for several reasons, but the biggest reason is because most computers just don't have enough hard drive space. I usually have two large USB drives mirrored - one of them backs up the daily changes to the other one. Now, since it's clear I am still leading up to a story about this, I should admit up front that I was just trusting those old drives. And I had extra drives (just as old) on hand so I felt alright about it. I shouldn't have.
So what that meant is when the one drive failed, suddenly every bit of artwork I had ever created, from Wine O' Cluck to my new Mousey, existed in only one place, on one very old USB drive that was the same age as the one that had just failed.
I scrambled to begin copying files to other USB drives. This is not a small undertaking either, as I have fully three terabytes worth and it takes forever for them to copy.
And as I copied, I realized that some of the files were not moving over properly. Because they mirror changes, some of the existing ones had been corrupted by the failed drive. I stopped everything once again and focused solely on saving my artwork. A sequence of small failures began. I realized the other USB drive was failing too, and I could not trust the drive I was saving to either. Just as I managed to save some files to a new place, some of the files on the previous one would either disappear or become corrupted. I was moving some of it to the computer hard dive, some to a pCloud drive online, some to DropBox, every place I could think of.
By some incredible miracle I was staying just ahead of a disastrous loss. I didn't dare walk away from it. Even in the seconds before the initial Rapidweaver glitch, I had just run a backup. I shudder to think of the loss if I hadn't done that. Everything was completely unstable.
Soon a new USB drive arrived from Amazon, I was waiting for the second one, and I decided to start another online backup to BackBlaze, which I had used in the past. (That backup has taken over a week so far and it's still transferring.) I was at this for days and days, staying up late at night, babysitting all these files. I had several big scares along the way, but the miracle somehow continued.
When the second Amazon shipment got here I was able to reliably mirror the drives again. Since then I've been going through all three terabytes, folder by folder to determine what I might have lost. I did find some blank folders, some just missing a few images, but none of the critical files I use for printing my art prints/posters/cards were lost. (Those were the first files I saved.) A few older Chicken Art image files were lost, but most of those have variations elsewhere that were not lost. It was one panicky moment after another, but it's finally calmed down enough so that I can tell you where the heck I've been all this time.
I have to say, it was very interesting to be faced with losing so many years of work. What would I have done if I had? I wouldn't be happy about it, especially if it meant I couldn't print it anymore. But I surprised myself too. Some deeper part of me said, "It's okay. It's all older work, been there, done that. You can always make more art." Upon reflection I think that voice is right.
The big takeaway for me has to be this though: to never neglect or lose track of my own life so thoroughly again. And to buy new USB drives once in awhile.
The culprits:
Oh, I almost forgot. Then this happened too: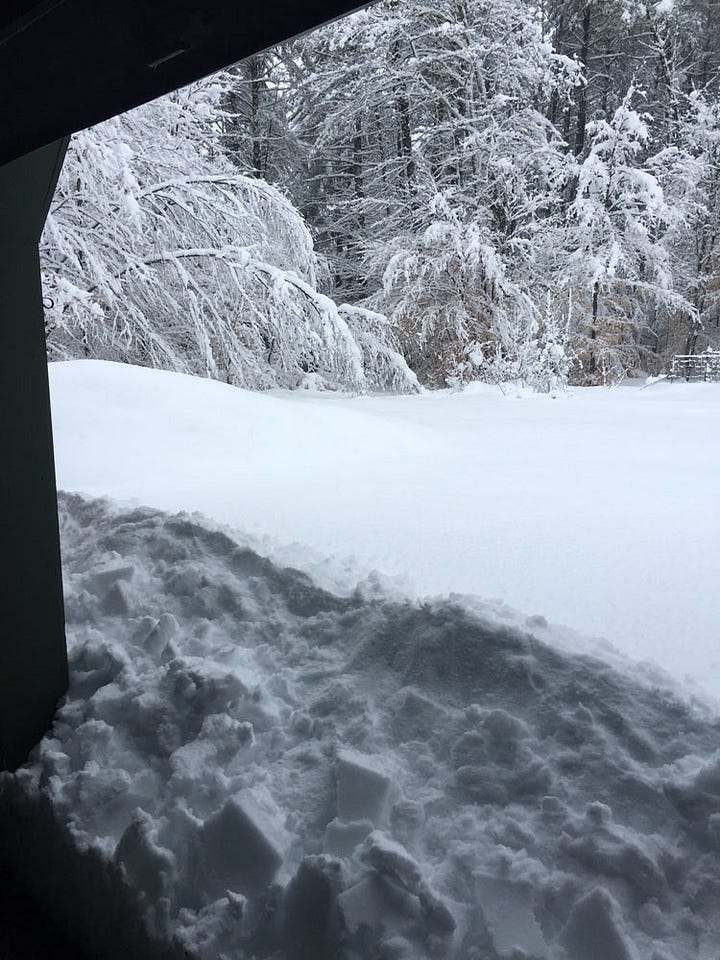 Over two feet of snow and massive ongoing power outages - this is the third day. Ours is back on now and of course I wasn't worried but many others are still out.
First two pics: the view from my garage before snow-blowing. And I had to do it all because my husband hurt his hand and wasn't able to help. Yikes! (It bothered him more than it bothered me.)
Third pic, see how sticky and wet the snow was. Heavy, heavy. It took hours to clear the driveway.
Fourth pic: snow-blowing my way out to the chickens first, before anything else! (Naturally) That's my car too, buried.
❤️ Sarah