Winter medicinals
Hemlock tea, Fire Cider, tinctures, and dried herbs
First off a personal note. If you ever find yourself at age almost-62… getting a little ahead of yourself and thinking, "Hey, I'm kind of awesome! I'm never going to grow old!" just take a video of yourself. It's profoundly humbling! 😂
So, pine needle tea is wonderful. Have you ever tried it? I use either Eastern Hemlock (Tsuga canadensis), or Eastern White Pine (Pinus strobus), and they each have a slightly different flavor.
Watch the video for how - it's super easy! If you let the Hemlock steep for 3-4 hours your tea will take on a really pretty red color with lots more flavor. If you cut it up more at first, it will take less time, but I'm lazy so I just use it as is. For that reason I often steep the hemlock even longer to get it as strong tasting as possible. It's delicious, it has more vitamin C than fresh orange juice, and excellent if you are feeling a little under the weather.
Please note: Some conifers are toxic. Don't use Ponderosa pine, Lodge pole pine, common juniper, or common yew in particular. Depending on where you are in the world, do a search online for any types to watch out for. However humans have been using pine medicinally for centuries, and white pine and hemlock tend to be ubiquitous here in the USA, so it isn't hard to find. Oh, and it was Socrates, not Aristotle. I got that wrong, lol.
You can also add a cinnamon stick and/or a few whole cloves to the tea if you want, but I prefer to taste the natural pine by itself.
Another lovely winter remedy is Fire Cider. This is a classic herbalist's concoction that's been around for… forever. It's wonderful to take if you feel you might be getting a cold, and it's a bracing shot for your digestion. The ingredients are (all organic) fresh ginger root, fresh horseradish root, turmeric root, chopped onions and garlic, cayenne or jalapeno peppers, lemons, rosemary sprigs, and then fill the jar with apple cider vinegar and let it sit for a month or so. It takes awhile but once it's "done", strain it through cheese cloth and bottle it. We have a bottle sitting on the counter (you can see it in the video) and every now and then we pour some into a shot glass and down it. This was my batch for Christmas gifts this year: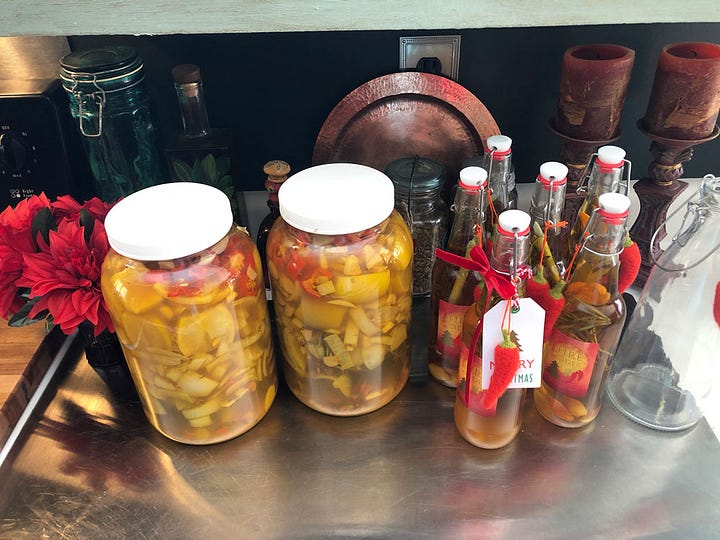 I also make tinctures from herbs. Many of these I grow, and some that we use I do not, as they are more tropically grown. Tincturing in alcohol is an excellent way to preserve herbal medicine for the long term - the shelf life can be many, many years. Below is my tincture shelf, and the other photo shows a tincture I am currently making from locally-found Reishi and Chaga mushrooms and EverClear alcohol. Most tinctures are taken in water, with just a couple of eye-droppers full:

Many of my herbs I save dried for tea or cooking however, as I think it's the nicest way to take them. Much of this came from my garden, and I replenish every year so nothing gets moldy or loses potency. I call it my Pantry Apothecary:
And I also think it's important to keep a couple of growing plants inside the house throughout the winter. Just a few to cheer me up and keep me connected to their world.
Here in Vermont we are coming off of weeks of grey weather, snow, and random power outages, so today's sunshine is profoundly welcome!
(Those are lovely silk flowers from the craft store on the table btw, and they are doing the job just fine right now thankyouverymuch.) 😎☀️😊☀️